TFR-2000(JIS5K)・3000(JIS10K)・4000(JIS20K) : SUSBSUS・SUSB
・As the both ends flanges are loose, pipe laying work is easily done.
Nominal dia:10A~50A
Materials:Carbon Steel, Stainless Steel
Models
SUSBSUS (Lap joint, flange = Stainless steel)
SUSB (Lap joint = Stainless steel, Flange = Carbon steel)
Tubes
Excellent tube, Soft Tube, UFO Flex, Ultra Soft Flex,
Super annular and Super Bellow
Construction
・The tube is butt-welded to the lap joint.
Flanges at both ends are loose.
Connecting fitting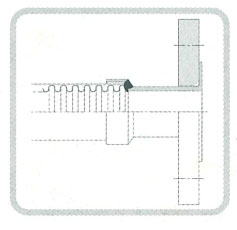 JIS 5K Flange …TFR-2000
JIS 10K Flange …TFR-3000
JIS 20K Flange …TFR-4000
Type

Nominal dia.

(A) (mm)

TFR-※010
10A
TFR-※015
15A
TFR-※020
20A
TFR-※025
25A
TFR-※032
32A
TFR-※040
40A
TFR-※050
50A
※Please see the table of connecting pipe