THP Hose
・We developed new metal tubes usable for 20MPa (Up to 20A).
Nominal dia:10A~50A
Materials:SUS316L
Feature of THP Hose
1.Flexible tube of stainless steel for high pressure.
2.It is flexible enough to use as usual flexible tubes.
Corrugation mechanism for THP Hose
When the tube is corrugated continuously, it is done with close pitch for high pressure by multiple corrugation process which controls speed difference between each corrugation process.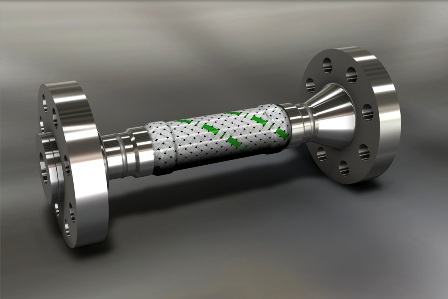 Construction of THP Hose
1.It is flexible cause it is a high pressure tube doesn't depend
thickness for pressure-resistant.
2.Shape of corrugated convolutions is not only durable
for high pressure but also flexible.
3.Material strength effected by suitable reinforcement improves
durability for pressure.
Tube Specifications